Boot Buddy 3.0 Black + Three Detachable Brush Heads
$36.99
Regular price
Sale price
Unit price
per
WHAT'S IN THE BOX
Black Boot Buddy 3.0 shoe cleaner with 3 detachable brush heads for the ultimate shoe cleaning versatility. Clean boots, shoes & trainers quickly & easily.
Cleaning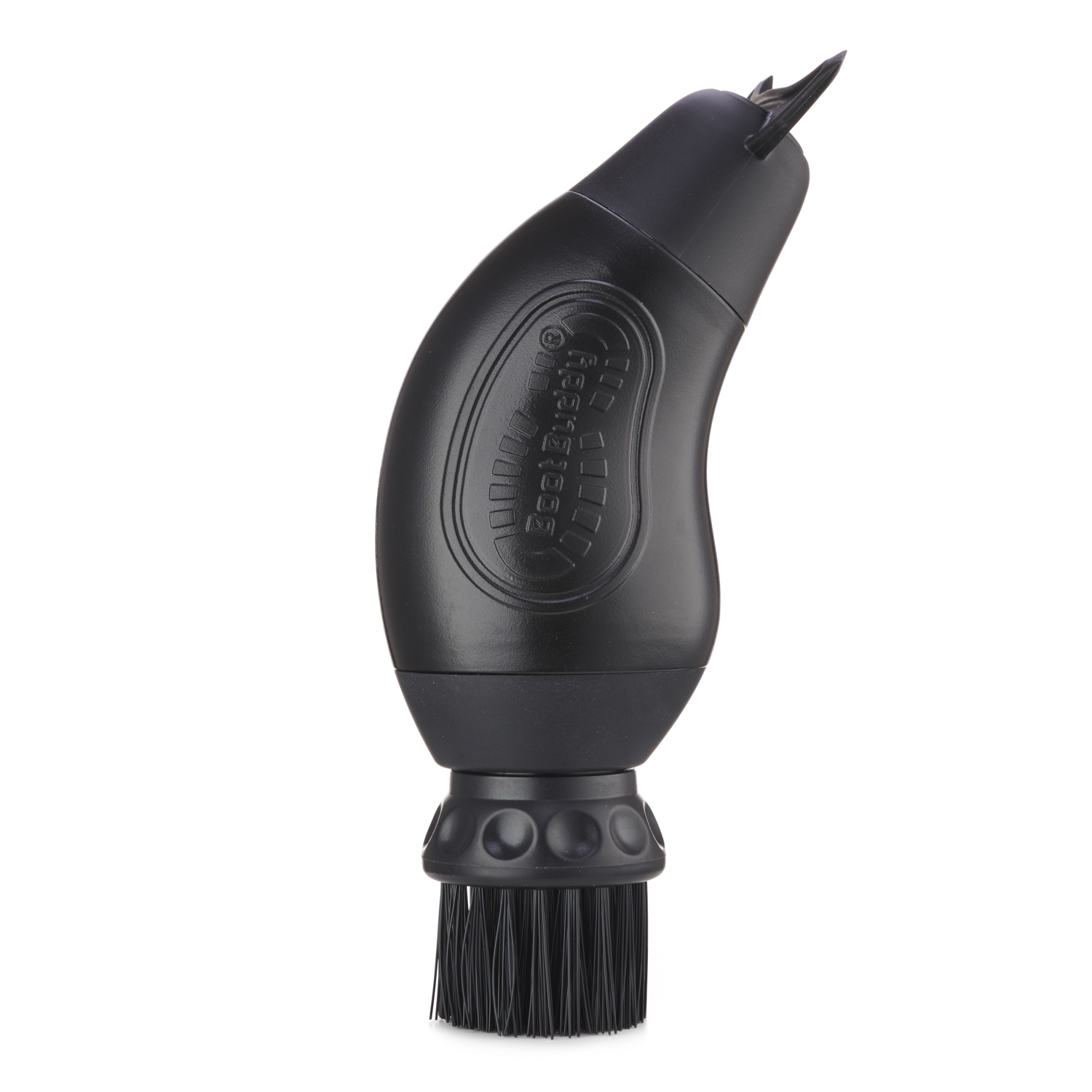 Boot Buddy
Cleaning
Shoe Cleaning Solution
Heads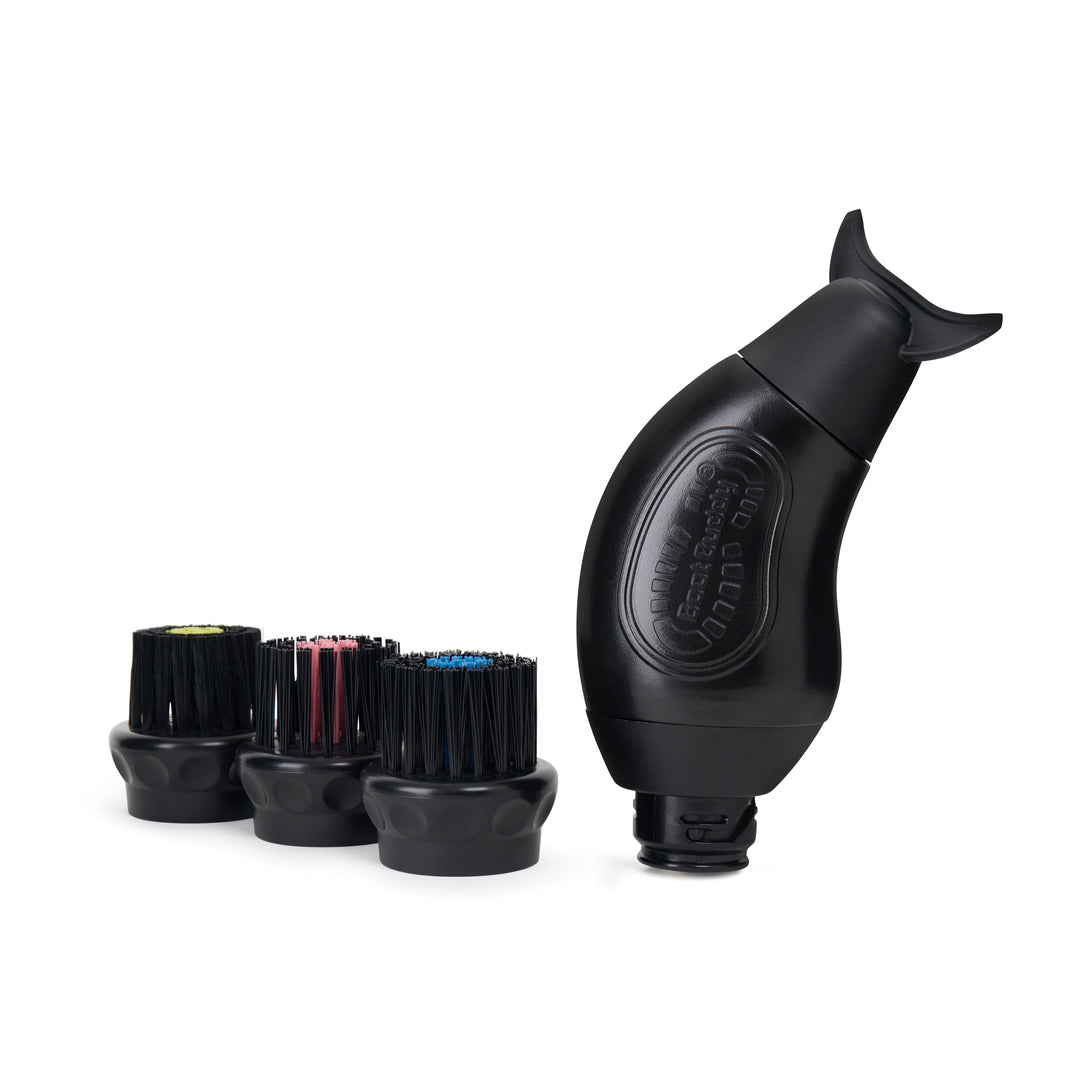 3 Detachable Heads
Cleaning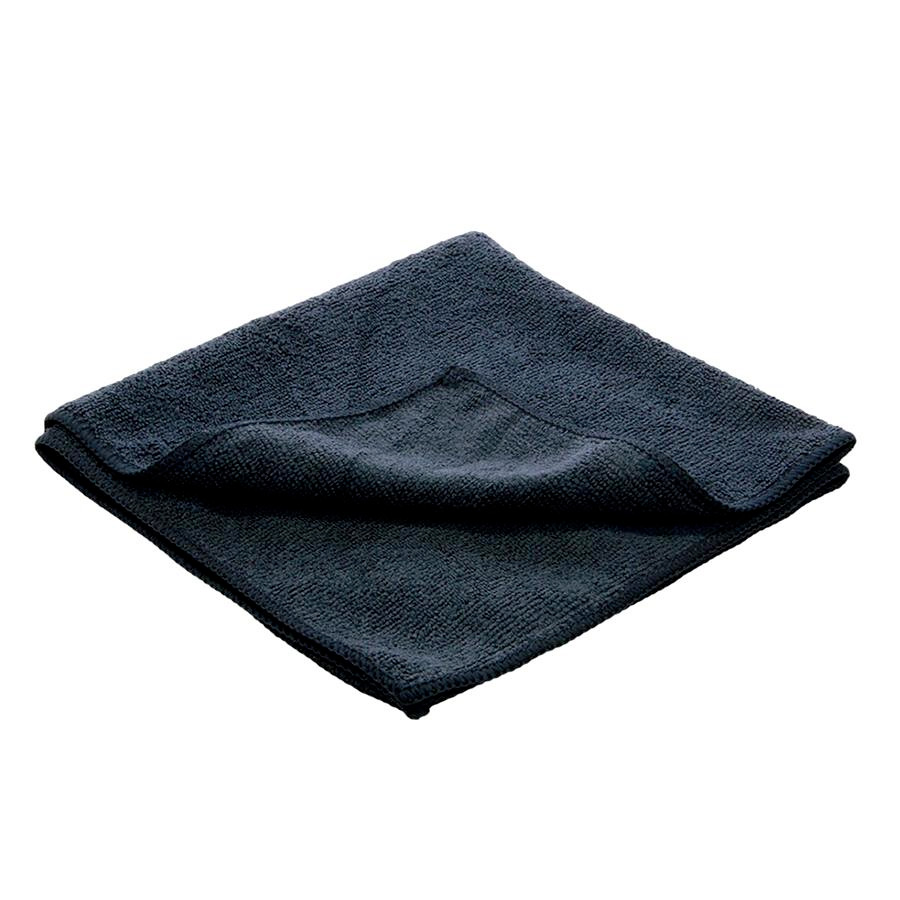 Cleaning Towel
Storage
Drawstring Bag
About
Clean Every Single Shoe in Your Collection With 3.0. 

Choose From 3 Different Brush Heads For Ultimate Cleaning Versatility. Each Brush Head Has Varying Thickness From Soft, Medium to Hard For Effective Cleaning of All Shoe Materials Including Leather, Patent, Suede & Nubuck.
Neon Brush, the soft one - great for canvas, leather, mesh and patent shoes as the bristles are gentle and won't damage the material. Use as a standalone brush for the upper part of your shoe. Dip the bristles in a bowl of warm water that has been mixed with Boot Buddy's cleaning solution to help create a lather that will eliminate stains.
Blue Brush, the medium one – the choice for sturdy boots that have been having fun outdoors. Think hiking, football boots or golf shoes. Attach to the Boot Buddy body, fill the reservoir with water and take with you to clean off mud in seconds before you change your shoes. Can also be used as a standalone brush for cleaning the midsole of sneakers when the stains need a little more welly.
Pink Brush, the tough one – good for nubuck and suede to remove dirt and dust without the need for water which can stain this type of material. Use as a standalone brush, completely dry, and brush away. Can also be used for the sole of all types of footwear to remove more stubborn dirt that has accumulated.
How To Use:
Unscrew the scraper end, fill with water and then screw the scraper back on 
Untwist the bristle end to open the head and unlock the water flow 
Squeeze the middle of the Boot Buddy to help water flow and clean your shoes
If you want to detail your shoes, simply remove the brush head and give your shoes a closer clean. This method works perfectly for trainers & sneakers. 
Use the cleaning solution where necessary, either inside your BootBuddy when doing a quick clean. Or in a bowl with a detached brush head if you're doing a close clean.
What's Included:
1x Boot Buddy 3.0
1x Soft Bristle Brush Head
1x Medium Bristle Brush Head
1x Hard Bristle Brush Head
1x Shoe Cleaning Solution
1x Premium Cleaning Towel
1x Breathable Premium Mesh Bag For Storage & Washing Laces
Scan The QR Code On The Box To See How Best To Use Your 3.0  
Delivery & Returns
UK DELIVERY OPTIONS
UK orders for delivery to a UK address currently have two (2) delivery options –Standard Delivery (usually £2.99) and Express Shipping (usually £4.99) . We also offer FREE UK Standard Delivery for orders over £25. Please see below for further information about UK delivery options. But these prices are subject to change.
Delivery costs are additional to the displayed price and vary depending on the delivery service you select, the country of delivery and the quantity/weight of goods ordered. Delivery charges will be confirmed to you, before your order is accepted.
Delivery Times:
Standard Delivery: Typically takes around 3 to 5 working days 
Next Day Delivery: Parcel will be delivered typically on the next working day
We occasionally run offers on delivery costs where, for example, we will upgrade you to Express Delivery for the same cost as standard delivery. Please see "Express Delivery".
Delivery times depend on the delivery service selected and the types of goods ordered. We always aim to despatch all goods in stock as quickly as possible.
Couriers will require a signature to ensure safe receipt of your goods. If you are not available to collect and sign on the courier's first visit they may leave it with a neighbour, or in a safe place (i.e. hidden from sight and protected from the rain). A calling card will be posted through your door to let you know this has been done. If there is no safe place a calling card will be left with the courier's contact number to arrange re-delivery. Our couriers will deliver until 9pm in most areas!
The couriers will attempt redelivery up to a maximum of three (3) times and if delivery is not successful after the third attempt they will return the goods to us. In these cases we can resend the items and in some cases issue a refund upon receival of goods. We reserve the right to recharge the delivery cost for re-delivery.
OUR RETURNS POLICY
Please note customers are responsible for the cost of returning the goods to us. We, the seller, will not be responsible for any lost or damaged returned items/parcels made by the customer. Returning any items/parcel will be solely the customers responsibility. Returns must be returned to us within fourteen (14) days from the day after receiving goods. If a refund is payable to you we will process the refund as soon as the returned goods have reached our warehouse , and, in any case within thirty (30) days of the day you give written notice of cancellation. To cancel an order, you must inform us in writing. You must also return the goods to us as soon as possible. The goods must be returned in their original packaging, unused and returned to us at your own cost and risk.
You have a legal obligation to take reasonable care of the goods while they are in your possession. If you fail to comply with this obligation, we may have a right of action against you for compensation. This applies to all goods that are returned.
Our returns policy does not affect your statutory rights. If you return goods claiming they are defective, we will examine the returned goods and will notify you of your resend via e-mail within a reasonable period of time. We will process the refund due to you as soon as possible and, in any case within thirty (30) days of the day we confirm via e-mail that you are entitled to a refund.
If a refund or reimbursement is payable to you, we will transfer the money using the same method originally used by you to pay for your purchase.
To return your product, you should mail your product to: THEBOOTBUDDY LTD, 39 Falcon Road, Battersea, SW11 2PH.
You will be responsible for paying for your own shipping costs for returning your item. Shipping costs are non-refundable. We do not provide any pre-paid label services.
Depending on where you live, the time it may take for your exchanged product to reach you, may vary.
You should consider using a trackable shipping service or purchasing shipping insurance. We don't guarantee that we will receive your returned item.
Non Receipt of Goods
We, the seller, are not responsible for failed delivery if the consumer has entered the incorrect delivery address or if the address has missing information at the point of purchase.
The consumer has up to 30 days from the date of purchase to claim for non-delivery of items due to courier error. The consumer has up to 90 days from the date of purchase to claim for non-delivery of items due to unfulfilled status. To claim, means to raise the issue with our customer care team within the time frames set above. Our customer care team can be contacted at info@bootbuddy.com. If the consumer fails to raise the claim within the timeframes above, a claim will not be processed. 
If non-delivery has occurred and the consumer has claimed within the time frame stated above, a resend of the items can be issued. However refunds may only be issued in special circumstances. 
Claims Process for Non-Delivery
Please raise the issue of non-delivery to our customer care team. Our customer care team will investigate the issue with the courier; investigations can take between 5-10 working days and maybe take longer during busy periods. Once we receive an answer, you will be notified and we will offer a suitable solution based on the findings of the investigation. If the courier is at fault, we can resend your items. We will only resend items once the courier has confirmed that your parcel is lost.



Reviews
Arrived super quick during Black Fridays madness. Free bag was a bonus. Xmas present so not used yet but getting another for a dog walker to keep in the car.
Great easy to use on sons boots
Great for cleaning football boots. The boot buddy is a little on the big side for smaller hands to grip when using (adult female, not talking about child using) but still makes it an easy clean.
The scent packs smell lovely, fills the room, not just the boots.
Boot Buddy 3.0
Got one of these for my son. His boots have never been cleaner!
So glad I found Boot Buddy!
My son is a goalkeeper! Pretty sure that's all I need to say about how muddy and messy he gets playing football and his boots were always the hardest too clean. Not any more! Boot buddy is just amazing! Easy to keep in the car, works an absolute treat and we also used it on all our shoes after getting out on a muddy walk. Wouldn't be without one now!